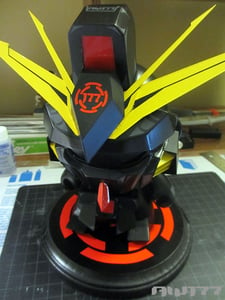 $

500.00
Custom Kidrobot mecha munny based on my "MACHINE TYPE AW177" design. The white design is available as a t-shirt from Outsmart Originals, while the black design is exclusive to me.
This custom comes with 8 LED lights that can be programmed to flash, flicker, stay steady, etc. The lights are placed in the top of the head, 2 in each eye, one in the chest and 2 in the booster rockets on the back. You can flip up the backpack to get to the lighting terminal easily. All instructions on how to program it will come with the purchase.
Please visit http://youtu.be/TaR44HVJhbI to see the lights in action.
It also comes with a wooden base with a large 177 symbol to match the custom.
This is a one of a kind custom that will not be reproduced by me. A ton of work, effort, blood, sweat and tears was produced by me while making this custom so please understand you are truly getting something one off!